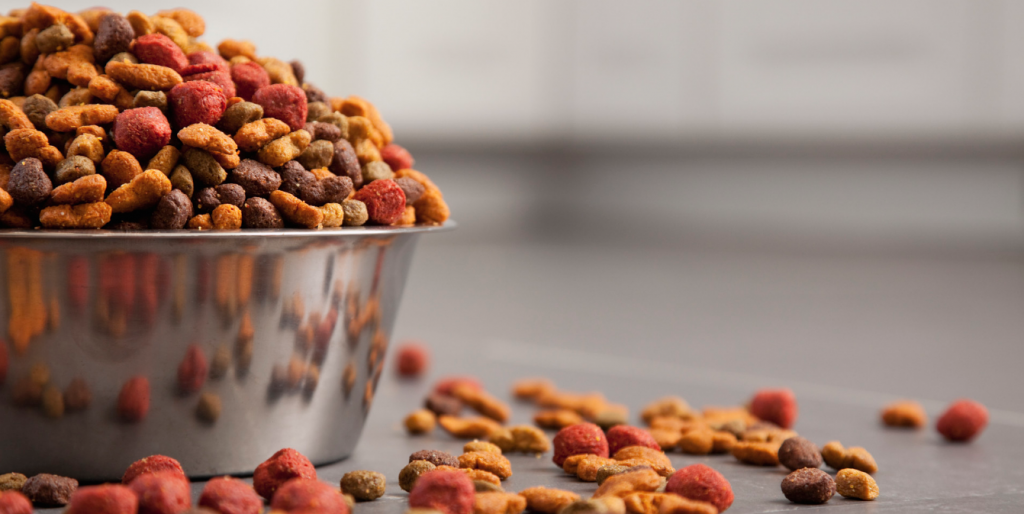 Choosing the right food for your dog isn't as simple as just finding the cheapest bag of food on the shelf. We must take in consideration where the food is made, the ingredients, and the nutritional value. After all we all want our faithful companions to live long and healthy lives. Some foods are dry and others are wet. Wet dog food tends to have less filler and more protein. It's easier on the gums and if your dog has missing teeth, it can help out a lot.
Dry dog food is usually cheaper and will have filler, but it can help fulfill a dog or puppy's need to chew. Both are equally nutritious and both serve a purpose. Deciding on what to get depends on what you're looking for.  Keep an eye out for "Product of USA" printed on the label as these brands are typically the best to go with. It's also worth looking up reviews for the dog food you're planning on purchasing.  You don't want anything that's upsetting the majority of owners and the dogs themselves.
#5: Purina
Purina is a really good brand of food that isn't too price. Purina Pro Plan, Purina ONE, and Purina ONE Beyond are the superior brands of Purina products. Some people avoid Purina because they use poultry by-products and corn. They also consist of grain products, which may cause slow digestion in your dog. Recently Purina has made some changes by adding more soybeans to the food. Because soybeans are high in protein its speculated that this would decrease dependency on meat making it the ideal replacement.
#4: Natural Balance
Natural Balance comes in a few different varieties. Some variants include canned food, Dry food, rolls, and threats. Rolls provide dogs with healthier skin and can even replace full meals. Natural Balance at one point was extremely popular amongst trainers. This provides the canines with all the nutrients they needed to stay healthy and ready for the next command.
#3: Pedigree
I'm sure when you go into your local grocery or convenience store you may have seen the Pedigree's big yellow bag of food. They make many different types of canned food, about 9 types of dry foods, and even more varieties of treats. They have the right food for any kind of dog (puppy or old, small or big). Not only that but they have foods for particular health needs like oral care, healthy coat and skin, and weight problems. Despite being popular it comes with a price. Pedigree has content of poultry by-products and meat-and-bone. Because the general dry food is plant based, the source of protein is from the poultry.
#2: Wellness Dog Food
This brand of dog food has high quality ingredients like real meat at human a human grade level. There is no corn or any by-products. Like Pedigree, Wellness offers a huge variety of food choices. Some are used for specific health concerns and some are used only for specific types of dogs. If you take a trip to the Wellness website, you can see the many different varieties of foods and how detailed they are with supplying specific types of dog foods for specific reasons. At Wellness they believe that food should not only sustain us but should also protect us so that we may live longer and healthier lives. With that philosophy in mind, you could imagine the care they have for making good quality foods for our canine pals.
#1: Orijen
Orijen dog foods use above average ingredients in their foods. Their food is rich and varied in fresh whole meats. Dogs benefits from a diversity of prey so Orijen features meats, organs and cartilage from an assortment of cage-free poultry, free-range red meats and wild caught fish. The foods are protein and meat rich, and also have a limited amount of Carbohydrates. They replace potatoes and rice with low-glycemic and regionally sourced fruits and vegetables. The brand also lists their ingredients with the source's names attached. All ingredients are from local producers who they trust. Take a look at the reviews for Orijen products as well. Almost all of them are positive.
Choosing the right food for your dog is really all up to your personal preference, budget and how healthy you want your canine friend to be. If you have been using an undesirable food for a while, you can reintroduce a better grade food easily. Just be careful and wean them into the change!